Every Sunday, from 02/10/2019 to 03/24/2019, 5:00 PM - 7:00 PM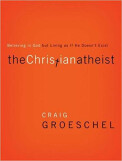 This women's life group is based on the bestselling book, The Christian Atheist, by Pastor Craig Groeschel.
Am I putting my whole faith in God but still living as if everything were up to me? Whether you are new to Christianity or have been a life-long follower, this will will challenge you to walk more intimately with God and live out a more authentic, God-honoring life. Led by Carla Smith. This Life Group lasts 7 weeks.
We will be using the book, The Christian Atheist. You can purchase this on your own or one will be provided for you.
Childcare is available for this group.